EDI Training on Moodle
The Equality, Diversity and Inclusion Office has created a Course for All staff that is now available on Moodle. We encourage you to participate in EDI related trainings & learnings at your own pace and broaden your knowledge, confidence and skills around topics that may sometimes be difficult to speak about or question in a safe environment. The content ranges from short, informational videos and text, links to information sessions to specific topic training modules. We hope that it may help you personally or as you work with students and colleagues alike.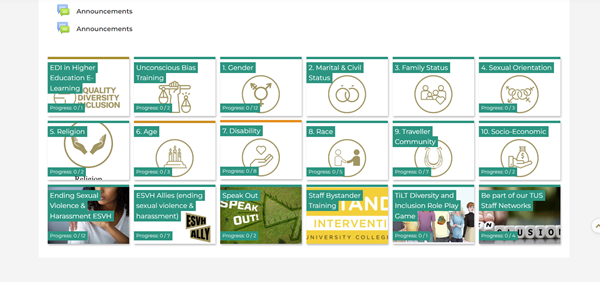 You will find trainings on each of the 9 Grounds for Discrimination. Additionally we have included Socio-Economic Status as an additional 10th ground that we at TUS need to be aware of in terms of discrimination.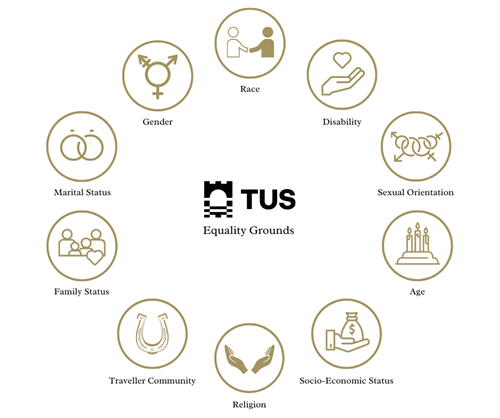 Trainings & information also include topics on sexual violence, sexual harassment and consent.
Please see all trainings and further information at Course: Equality, Diversity and Inclusion (tus.ie). An enrolment key is needed to access all the trainings. This is emailed to all staff on our EDI newsletters, sent each quarter. You only need to use the key once, to activate your account and you can access your account from that point on.
Please contact trish.bourke@tus.ie if you cannot locate your key.
Aurora Women's Leadership Programme
Aurora is a women-only leadership development programme provided by Advance HE. The EDI office in TUS funds a number of employees each year to participate in the programme and supports them with an accompanying mentorship programme. The TUS Aurora programme is targeted at women in academic, support and research roles in the University in order to enable leadership potential and provide an opportunity for growth and development.
The programme provides, in a social learning environment, core and adaptive leadership skills and knowledge over six interlinked days: four development days and two action learning set days. Participants are encouraged to access and use the online self-directed resources available to them. Led by a team of leadership experts, participants will explore four key areas associated with leadership success: Identity, Impact and Voice; Power and Politics; Core Leadership Skills; Adaptive Leadership Skills. This is complemented by networking, role models, and guest speakers at each event.