A student at the Technological University of the Shannon (TUS), Athlone Campus, has been chosen to showcase work as part of a national exhibition celebrating the diversity and richness of Irish Traveller culture.
A year 3 graphic design student, Chloe McDonagh's collection of postage stamps will soon be on display in the National Museum in Dublin as part of The Pisreóg Project exhibition.
The stamp collection, now garnering national attention, tells the story of "an lucht siúil," or "the walking people," paying tribute to Chloe's late father, a member of the Traveller Community.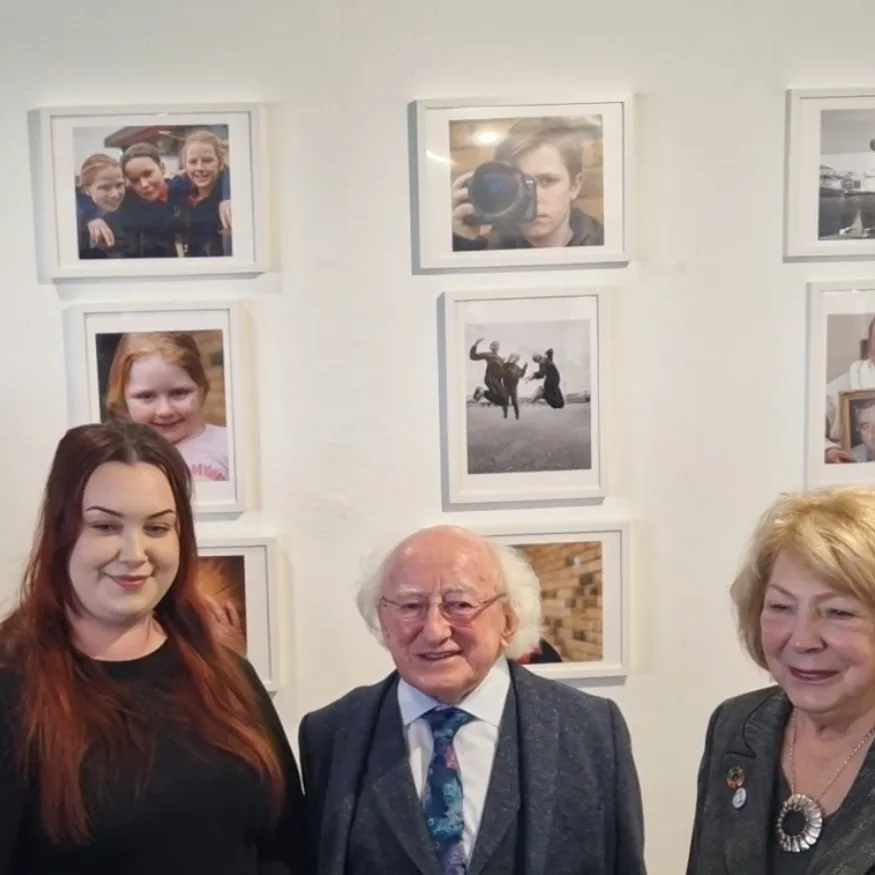 The exhibition, which was opened by President of Ireland Michael D. Higgins at the Axis Art Centre and Theatre in Ballymun earlier this year, has received significant acclaim, with the president himself recommending Chloe's work be put forward to An Post for nationwide release.
Chloe's stamp collection captures the essence of Traveller culture, portraying an older man with a gypsy wagon, a middle-aged woman hanging out washing beside a caravan, and what she calls "New Ireland", a depiction of a forced transition from a nomadic way of life to social housing.
"It's very personal to me," Chloe said, explaining that she wanted to relate the collection back to her father and tell the story of how he grew up.
"It's a set of three stamps that, when put together in a row, show a continuous road and depict the past and the present of the Irish Traveller experience, encompassing our traditions and heritage and the experience of being forced from a nomadic way of living into social housing, forced to conform," she said.
Each stamp includes translations of Gammon-Cant, the language spoken by Mincéirí (Irish Travellers), adding a layer of cultural richness to the collection.
Chloe said her hope is to "recapture the essence of Traveller language and share that with people" through the collection, explaining that many people aren't aware that Gaeilge was not the only indigenous language affected by colonisation.
Chloe's work is set to go on tour in the new year, making stops across the country before finding its permanent place in the National Archives.
"Chloe's stamp project is filled with symbolism and cultural significance and provides a unique window into the rich tapestry of Irish Traveller heritage," said graphic design lecturer Tara Cullen, congratulating Chloe on her achievement.
"Through her work, Chloe expresses the importance of recognising Travellers as an indigenous ethno-cultural group in Ireland, with a language and heritage deserving of acknowledgment. She is a true graphic design talent with a very bright future ahead of her and all of us here at TUS Midlands Media & Design are extremely proud of her success."
The Pisreóg Project exhibition also features work from other Irish Travellers, sharing their stories through art and shedding light on the diversity and depth of Traveller culture.