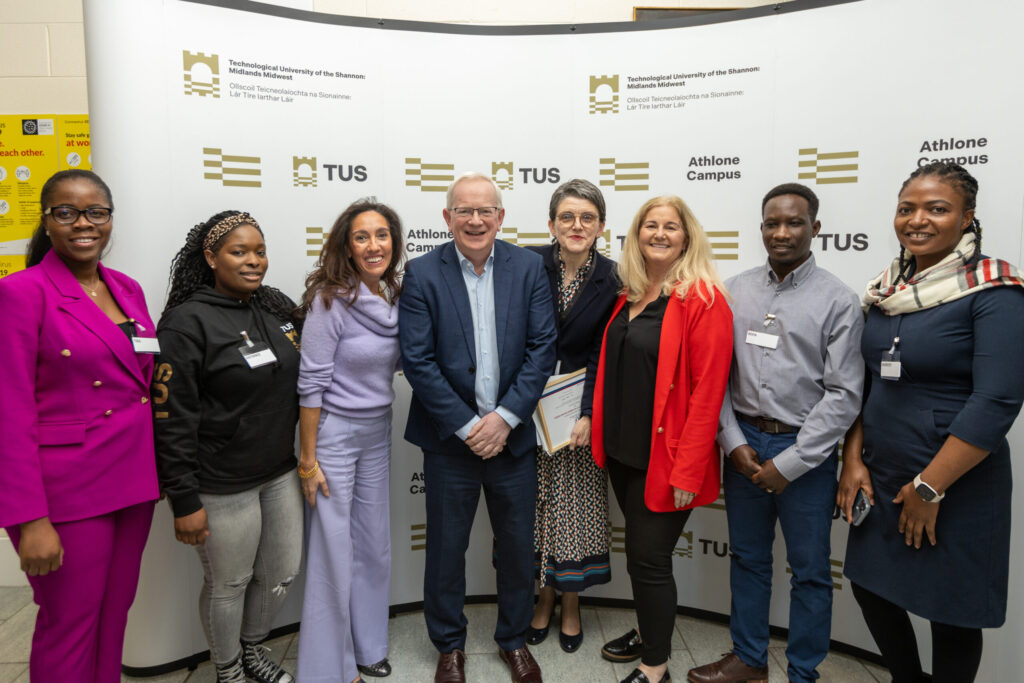 The Sanctuary Award is an initiative of University of Sanctuary Ireland, to encourage and celebrate good practice of universities, colleges and other education institutes welcoming refugees, asylum seekers and other migrants into their university communities and fostering a culture of welcome and inclusion for all those seeking sanctuary. TUS was designated a University of Sanctuary in June 2022 becoming the first Technological University in Ireland to be given the award.
TUS offers 10 Sanctuary Scholarships per academic year for students living in international protection/from a refugee background at undergraduate level and 10 scholarships for students studying on the Access/Transition to Higher Education programme at TUS.
For information and educational supports available to those who wish to pursue further education and are living in international protection an information booklet prepared by the Irish Refugee Council is available here:
Eligibility Criteria
You are eligible to apply for a Sanctuary Scholarship if you meet the following criteria.
Be a non-EU citizen who is an International Protection Applicant (person seeking asylum) and not eligible for state support, (meaning 'free fees', the state Student Support Scheme for people in the International Protection System, SUSI grant, social welfare payments)
or
Be a non-EU citizen with Permission to Remain, Subsidiary Protection, Family Reunification, or Refugee Status and not eligible for state support and designated as Non-EU fee status
All applicants must have been offered a programme to study at a TUS campus through the CAO process or Access Programme.
(Students who are thinking of applying to TUS but are unsure if they will qualify for Sanctuary may discuss their case with the Sanctuary Coordinator mona.khan@lit.ie prior to applying).
Priority is given to students residing within a commutable distance of the campus on which the course they wish to pursue is being offered. (In this regard, a commutable distance is defined as within approximately 45 km of the relevant campus)
Applicants must be registered with the Department of Justice and documentation of status will be required. You must include evidence of your status (e.g., a copy of the letter issued to you from the Department of Justice and Equality confirming details of your permission to reside in Ireland or your Irish Naturalisation and Immigration Services card.)
Students must commence their course of study and be a registered student at TUS for the scholarship to become valid.
What supports will I received with a TUS University of Sanctuary Scholarship?
Scholarship will pay all fees (tuition & registration)
A subsistence support stipend €960 (payable in four equal instalments throughout the academic year) to assist with travel, books, and meals
Please note the scholarship does not include University accommodation.
How to Apply – TUS Undergraduate Students
Applicants are required to apply for their course through the usual CAO channels/FETAC/Mature Student Route. For further info please click below link:
You may apply for a Sanctuary Scholarship by completing the sanctuary scholarship application form here:
Sanctuary Scholarship Application Form
The deadline for submission of applications is October 2023.
How to Apply – Access/Transition to Higher Education Programme Students
The TUS 1 year access course runs on both our Athlone and Limerick campuses and equips candidates with the necessary skills, knowledge and confidence to progress to third-level education at TUS. The access course gives students an understanding of computing, basic technology, science, engineering, business and humanities. Teaching methods include a combination of lectures, tutorials, project work and other assignments. The course is an excellent pathway towards a full-time undergraduate programme at TUS. There are 10 Sanctuary scholarships available for Access students.
Applicants are required to apply for the Access/Transition to Higher Education Programme as well as completing the Sanctuary Scholarship Application form here:
Sanctuary Scholarship Application Form
For further information on the Limerick Transition to Higher Education(Access) programme please click here:
Transition to Higher Education (Access) Programme
For further information on the Athlone Access programme please click here:
If you have any queries about the application process, please contact mona.khan@tus.ie