Access to Apprenticeship (ATA) supports the transition of young people (16-24 years old) from disadvantaged backgrounds into an apprenticeship scheme. It is a 12-week full-time programme and is delivered by the Dept. of Built Environment on the TUS Moylish campus, Limerick city.
Apply Now
Access to Apprenticeship gives you the opportunity to;
Sample a range of apprenticeships in; Construction, Engineering, Electrical, and Motor Mechanics
Prepare your CV and Interview Skills
Undertake two weeks work experience
Obtain Health & Safety and Safe Pass Certificates
Qualifying Criteria (3 out of 5 required)
Do you live in an area of disadvantage?
Did your parents/guardian not go to college?
Did you attend a DEIS school?
Are you in receipt of Medical/GP visit card?
Is your household income below €45,790/are you or your parents on a means tested payme
And/Or have you been in the care of the state?
Minimum entry requirements
Aged 16 – 24
Minimum of grade D in 5 subjects in the Junior Certificate or equivalent
How to Apply
Applications for 2024 programmes are now open.
Return Applications Via Post To:
Apply Now
Further Information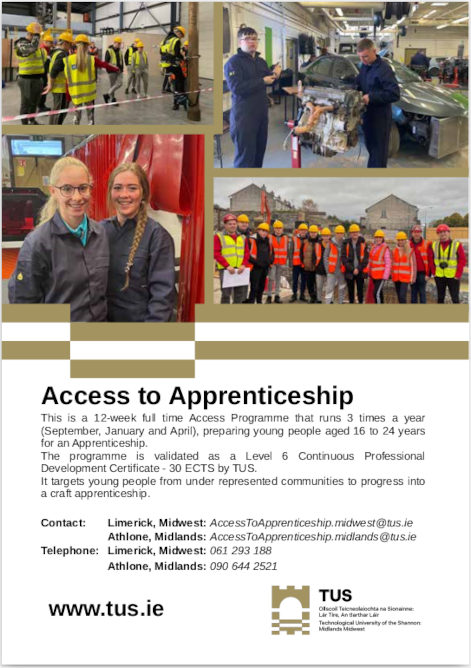 For further information, email accesstoapprenticeship@lit.ie or phone 061 293188 or 086 8162906 or 086 1368150.
If you are interested in future Access to Apprenticeship Programmes please also email or contact us with your expression of interest.
Launch of €3000 access and inclusion bursary in 2023
The access and inclusion apprenticeship bursary announced by the Government for 2023 provides financial support for under-represented groups to access apprenticeships. Successful applicants to the Access to Apprenticeship programme in TUS are eligible to apply for bursary support from the National Apprenticeship Office (NAO). Applicants will complete an application form provided by the NAO.
Up to €3000 per learner is available to support costs associated with travelling, accommodation, equipment, preparation for training.
Learners accepted onto the Access to Apprenticeship programmes in September 2023 will be eligible to apply for the bursary.
To find out more please contact the Access to Apprenticeship team via email to accesstoapprenticeships@tus.ie or email apprenticeship@nao.ie.